Fiber for business: modern fiber optic connections for companies.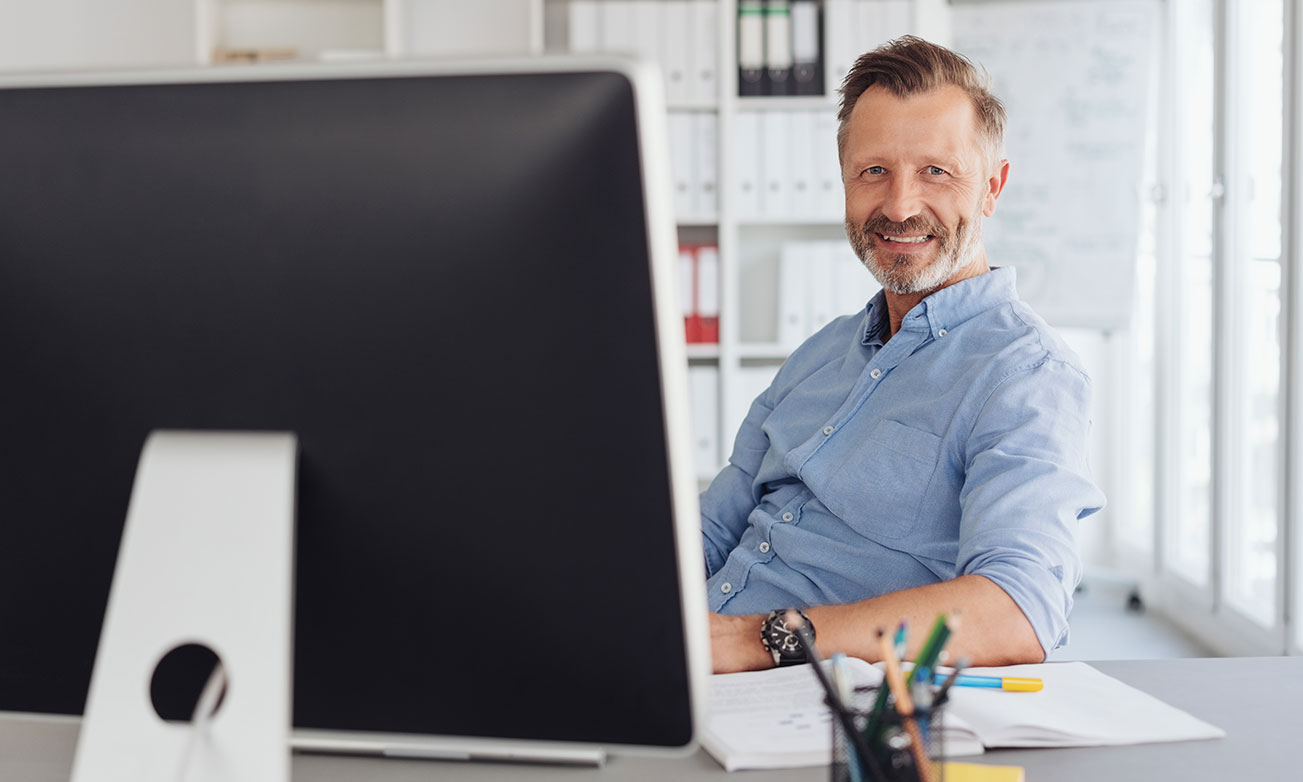 1000 Mbit/s
for maximum
speed.
Internet Pro.
Fiber optics for enterprises is the solution that will enable you to keep up with the fast pace of business processes. A fast and stable internet connection is essential in this respect. Opt for a direct fiber optic connection and future-oriented communication with your business customers, partners and suppliers. Read here why fiber optics is worthwhile for your company and which PŸUR Business fiber optics plan is the right one for your company.
Fiber optics for business: Why is a fiber optics connection important for companies?
Companies have to overcome many challenges in the course of day-to-day business. At PŸUR Business, we have set ourselves the goal of meeting each and every one of your individual needs in the fiber optics for business segment:

Fast, secure and stable fiber optics-based internet connection with guaranteed minimum bandwidths

Flexible adjustment and scaling of bandwidths in terms of upload/download rates according to current demand

High-availability internet connection

Management of large data volumes and seamless exchange of information/data

Line connection financed via rental model instead of one-off investment

A fiber optic connection is the ideal type of connection for speeding up your business processes.

What companies can benefit from the Internet Pro fiber optic business plan?
Internet Pro is particularly suitable for companies that transfer large volumes of data or rely on high-speed communication via the internet. Internet Pro runs entirely on our own fiber optic infrastructure and has a much higher line capacity than a VDSL connection, for example. As such, it is fail-safe and less susceptible to faults.

All Internet Pro features at a glance.

Improve your business with a fiber optic connection and experience the outstanding performance of Internet Pro for yourself:
High-speed data transmission up to 100 Gbit/s
Seven symmetrical product variants up to 1,000 Mbit/s as standard
Fiber optic direct connection to your building
No technical restrictions when scaling to higher bandwidths
Guaranteed minimum bandwidth of 90% for both uploads and downloads
Data flat rate without throttling or forced disconnection from the internet
One fixed public IPv4 address included, 5 fixed public IPv4 addresses available on request
Precise cost planning thanks to innovative rental model
24/7/365 availability
Connected directly to the redundant, high-availability internet backbone of PŸUR Business
ISO 9001 and ISO 27001 certified
Internet Pro - symmetrical download and upload bandwidths:

If you opt for Internet Pro, you will get a powerful, stable fiber optic-based connection . You can choose from seven symmetrical plans.
Internet Pro 100
Internet Pro 200
Internet Pro 300
Internet Pro 500
Internet Pro 600
Internet Pro 800
Internet Pro 1000
Internet Pro availability.
Internet Pro is available at locations already served by PŸUR Business as well as at those with a predefined distance to the line. You can also ask us to check whether Internet Pro can be provided at PŸUR Business locations that have not yet been connected. If you are unsure whether an Internet Pro fiber optic connection is the best choice for your company, please contact our experienced consulting staff.

Fiber for Business: difference between fiber and DSL/VDSL.
Find out more about the differences between DSL, VDSL and fiber optics and why these differences result in different bandwidths.
Fiber optic connections
Fiber optics transmit information via light waves. As a result, they can achieve significantly higher transmission speeds than conventional copper cable. Fiber optic networks are more stable than copper lines and ensure interference-free telephone and internet use. Even over long distances, only minor signal losses occur.
DSL connections
With a DSL connection, data is transmitted via conventional telephone lines. These run from the exchange to the company building via the distribution box. The length and quality of the line cause the bandwidth to decrease. The greater the distance between the exchange and the receiving station, the lower the transmission speeds. For companies, an internet connection via copper cables is slower than one using fiber optics.
VDSL connections
With a VDSL connection, fiber optic cables run from the exchange to the distribution box. From there, the data packets are transmitted to the company's premises via the conventional copper lines. This means that business customers can enjoy higher download speeds. However, these speeds are not always stable and cannot compete with fiber optic high-speed internet.
Fiber optic connection for business customers. Combine for a best solution.
To ensure that your company/business benefits from our fiber optic connection to an even greater extent, you can also combine Internet Pro with other products. Don't just take our word for it - take a look at our additional services for yourself.

FAQ.
Why is it advisable for companies to use a fiber optic connection?
How much does a fiber optic connection cost?
How does fiber optic technology work?
Are IPv4 and IPv6 addresses available to me with Internet Pro?
What is the difference between symmetrical and asymmetrical fiber optic-based bandwidths?
What are the advantages of Internet Pro over Internet Plus and Internet Pure Speed Professional?